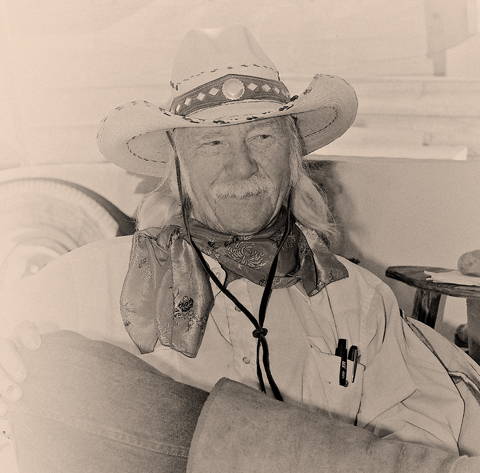 To be a cowboy was A. Kelly Pruitt's childhood dream; a dream that he realized early in his life. He was born in Waxahachie, Texas, where his family was working as itinerant cotton pickers. He started breaking horses when he was twelve and helped bring many a trailherd from Mexico across the Rio Grande at Presidio, Texas, where he and his family lived during his early years.
His first paintings were done on scraps of rainbow sandstone found on the Boquillas Ranch, where he worked, in Arizona, on the north rim of the Grand Canyon. It was there his work was discovered, by a man who ran the El Travarre Hotel, and Kelly's painting career was launched. That was the humble beginning of his success and renown was one of the premiere western impressionist painters of our time.
Completely self-taught, the many years he painted and sculpted, took this great talent to countries most cowboys of his day never dreamed of visiting. Never one to join art associations or to compete with his fellow artists, he had one man shows around the world, including England, Spain, Portugal, Italy, France and in most of the major cities of the U.S. His artistic gifts and openness attracted to him both the high and humble, the well-known and the unknown.
Kelly's life, like his work was loose and untrammeled by conformity. He preferred to live in a tipi or gypsy wagon under the heavenly stars, while his artistic work was collected by Hollywood stars.