Hartman Deetz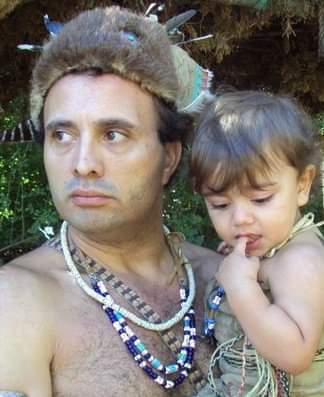 Hartman Deetz is an enrolled member of the Mashpee Wampanoag Tribe.   
Deetz has spent decades honing his skills in traditional Wampanoag arts, wood carving, stone carving, copper work, feather work, antler, bone and Wampum. Deetz learned from his family, and tribal elders and artists such as Daryl Wixon, Bruzzy Hendricks, Stewart Turner, Brian Bartibogue, and Bob Charlibioux.   
Deetz worked in museum artifact reproduction and exhibits contracting, and is a pow wow dancer who has made much of his own dance regalia.        
Wampum are beads and jewelry cut from Quahog clam shells. Wampum was woven into belts using pure purple and white beads to create an illustration of the bonds forged between people. These shells signified wealth and leadership in the tradition of the Wampanoag. Deetz work reflects this strong historical background in his selections of design and material with some selective contemporary additions.