Walter Shroyer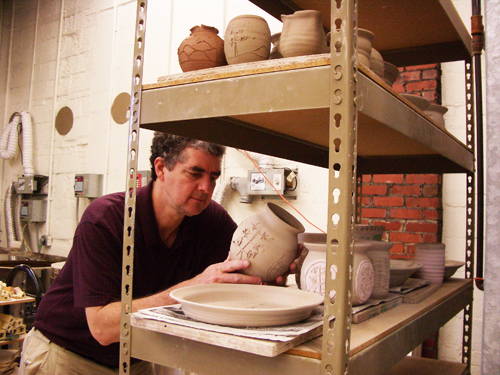 Walter Shroyer is a Professor of Art and Chair of the Division of Art and Design at Bluefield College in Bluefield, Virginia. He works in several mediums but ceramics is his first love.     
Originally from Atlanta, Georgia, Walter received his Bachelor of Fine Arts degree from the University of Georgia majoring in ceramics and completed his Master of Fine Arts Degree from Pennsylvania State University in ceramic art. He taught at Georgia Southern College and Dekalb College, before coming to Bluefield College in 1991.     
Walter loves to throw on the potter's wheel, making hand-made functional ceramics; loves the spontaneity of the clay, and draws inspiration from his love of nature, often decorating his ware with original tree motifs, bird and cat images. He wants people to feel the pleasure of eating or drinking from a clay vessel as opposed to something inorganic like plastic.